S-B18GL Automatic Can Body Drawing Machine
S-B18GL Automatic Can Body Drawing Machine
S-B18GL Automatic Can Body Drawing Machine is built for two piece can drawing Piled strips are lifted by a pair of hydraulic cylinders then suck pads send strip one by one to strip feeding station. (also can link with Automatic Strip Feeder S-B18-2). Reciprocating feeding bar at feeding station push strip into punch tooling. Formed can body or end is ejected out via. air blowing to rear while strip scrap is ejected out by a pressing roller to side. Equipped with twin sets of punch tooling. Punch tooling is made of alloy steel or tungsten carbide ; besides, air cushion system is incorporated. Hence, sturdy for long life. An automatic lubrication pump and multiple safety devices are equipped for easy maintenance and safe operation.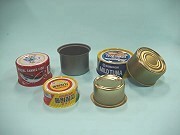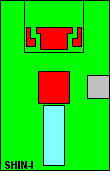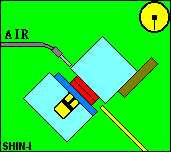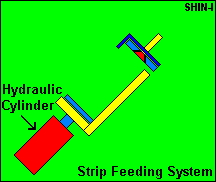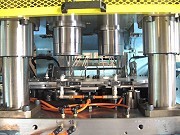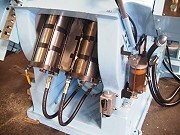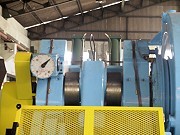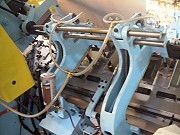 Specifications
Machine Type
S-B18GL
Range of Can Dia.
Round 55 - 86mm (For Double Die Setting)
Maximun Can Height
56mm
Range of Strip Length
550 - 1050mm
Range of Strip Width
200 - 300mm
Cans Per Strip
8 - 16 Cans
Stroke Per Min.
80 - 100
Length of Stroke
200 mm
Maximun Die Height
420 mm
Maximun Ram Adjustment
60 mm
Ram Bottom Area
460 x 360 mm
Bolster Area
770 x 480 mm
Horse Power Required
Main Motor
20HP
Hydraulic Pump
2HP
Vacuum Pump
1/2HP
Scrap Ejector
1/4HP
Air Compressor
10HP
Floor Space Overall Height
3805L x 2566W x 2833H mm
Net Weight (approx.)
11500 kgs
Features
Air clutch is adopted to ensure effective transmission.
Basic double die design for save of tinplate material.
Air cylinders are adopted for buffering the movement of big ram, hence precise stamp can be achieved.
Cylinders are used for top & bottom die cushion to ensure a very smooth drawing of can bodies.
Centralized lubrication system ensure the smooth running of the machine.
Double sheet detectors are used to protect the damage of machine & dies.
Can be connected with automatic strip feeder model S-B18-2 or S-B18-3 to save labor cost and connected with rotary trimmer model S-B61 to trim can flange.
Equipped with double drawing - reverse - drawing dies.
2 pices DRD can also can be formed by two separate drawing procedure.
Double sheet detector is equipped for safe strip feeding.
Layout Dimension